AFCAC President calls on ASECNA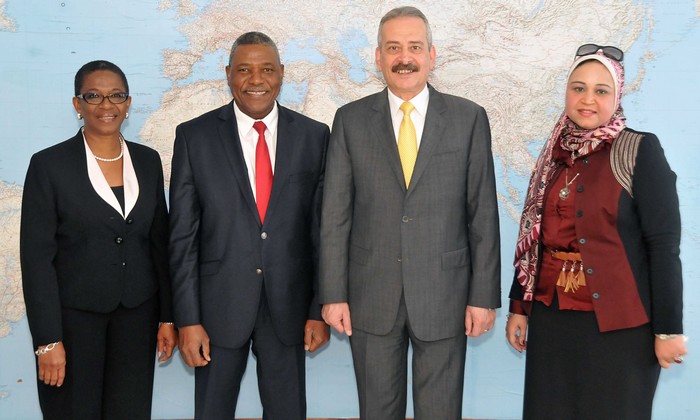 Visite AFCAC President calls on ASECNA
The Director General of ASECNA played host to the new President of the African Civil Aviation Commission (AFCAC). Mr. Hany Yehia Eladawy led a delegation that included Mrs Iyabo O. Sosina, the Secretary General of AFCAC. During the discussion, the Director General mentioned that ASECNA was honored by the visit of an AFCAC President in the premises of the Agency.
Mister Amadou Ousmane GUITTEYE made a presentation on ASECNA, its missions, challenges in the area of training, its Integrated Management System (IMS) and Strategic Orientation Plan. Two main concerns were raised during discussions, which pertained to SAR (Search and Rescue) and military and civilian Coordination. Regarding the two points, AFCAC said it was conscientious of challenges posed by these issues in Africa and indicated that it was working toward high-level meetings organization on the abovementioned themes.
Both AFCAC President and Secretary General also made an exposé on their institution, stressing the challenges that ought to be taken up by Africa in the domain of civil aviation development. Mr. Hany Yehia Eladawy also said he was impressed by the headways made by ASECNA and opined that the rest of the continent should take cues from the experience of ASECNA member countries that decided, more than 50 years ago, to pool their resources so as to ensure a better air safety in Africa.