Le The Director General being decorated by the Republic of Togo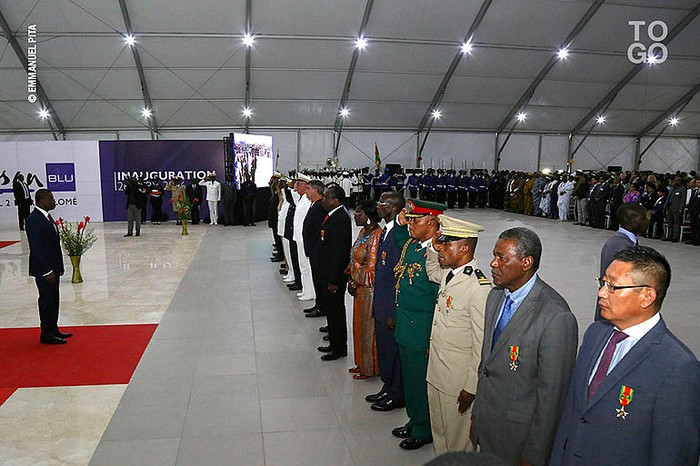 Le The Director General being decorated by the Republic of Togo
The Director General of ASECNA, Ousmane Amadou GUITTEYE was made the Officer of the order of Mono by his Excellency Faure Essozimna GNASSINGBE, President of the Republic of Togo, for services rendered to the Republic of Togo. This decoration ceremony was held on April 26, the following day of the commissioning of the new terminal of the Lome GNASSINGBE EYADEMA international Airport.
Through this decoration the High Authorities of Togo wanted to express their gratitude to the Director General for his personal involvement in pushing cases whose stellar handling led to the reinforcement of the civil aviation of Togo.
The cases handled concerned the Accra FIR sectoring whose success, required, at the technical and operational levels, the deployment of a mechanism that tallies with the expertise and experience of ASECNA in the field of air navigation services provision.
The other project for which the contribution of the Director General was reckoned with, had to do with the extension and reconstruction of the l'Aéroport international Gnassingbé Eyadema whose climax was symbolized by the commissioning of the new terminal. ASECNA played a significant role in the conduction of this project through its presence in the steering and monitoring committees as well as in the works supervision, in partnership with the company that constructed the terminal
Speaking after being decorated, the Director General congratulated Togo for the modernization efforts made in the domain of air transport through the construction of the new terminal, an ultra-modern building whose construction required 150 million dollars investment.
To cope with the air traffic evolution in the sub-region, Togo is boosting its capacity to achieve its ambition to handling 2 million passengers annually as against 600 000 currently, coupled with boosting the annual processing of freight tonnage from 15.000 to 50.000.
Some data and figures about the Aéroport international Gnassingbé Eyadéma following the commissioning of the new terminal:
The building covers 21.000 m2 surface area and comprises three levels: departures, arrivals and transit.

For the comfort, quick boarding and disembarkation of passengers, 5 expandable bridges were installed in order to curb aircrafts parking aloof.
In the main hall there are 24 check-in counters for passengers
The zone of luggage delivery has 3 carrousels and another one for excess luggage.

VIP lounge, business lounge, restaurants and duty free gallery. All has been designed for the passengers' comfort and leisure.

The parking was expanded to receive 15 jumbo jets.

The taxiways were also upgraded allowing for reaching both runway thresholds so as to enhance fluidity in ground traffic.